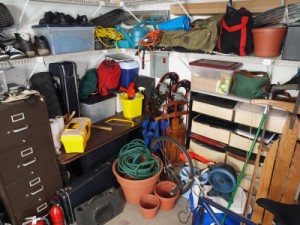 Spring is a time for the return of green, and flowers, gentle winds and rains. It is a time for new beginnings. And if youíre trying to get a fresh start on another street, in another city, or even in another state you need to sell your home quickly so that youíre not tied down to it. One of the most important things you can do to prepare your house to sell is to remove clutter for potential buyers. The Team Edge is here with tips to help you with removing your clutter so you can sell your home.
The Importance of Removing Clutter
Removing clutter is essential to spring cleaning, especially if you want to sell your home fast. When buyers see your home and itís filled with clutter they often canít look past the clutter to see the spaces themselves. They know the stuff wonít be there when they move in, but canít visualize the space without it, and so it prevents them from considering your home as possibility. Personal clutter, like keepsakes, pictures, and thematic decorations tied to your personal tastes, can also tie the home in the buyers mind to you the current owner, and with your things there they canít picture their own keepsakes in their place.
Separate Your Items
To remove clutter, begin by making four categories: necessities, pack, donate/sell, and toss. The necessities category is made up of the bare minimum things youíll need to continue living in the house until you move. The pack pile will be the largest and made up of things that you donít need until you move and can be packed away until then. The donate/sell pile is made up of things that you donít really want or need anymore, but can still be useful to someone. You can donate these items to the Salvation Army or Goodwill, or try to sell them at yard sales, pawn shops, and consignment shops. The final category is made up of those items that you donít want anymore and canít be sold or donated; these you should simply throw away.
Start going room by room and sort objects into each of the categories. Necessities will include thing like toiletries, a set of cutlery and cooking supplies, clothes and bed linens, however, this should all be kept exceptionally neatly, while youíre showing your house. Everything else, including all your keepsakes, goes in the pack pile and should be neatly packed away and put into storage. Then you work through what you want to sell, donate, or trash.
Keep on top of Your Clutter
Once youíve finished removing your clutter stay on top of it. Keeping your clutter down with regular clean ups is easier then doing a full cleanup every time you have a house showing. All of this preparation also makes it easier to move when youíve gotten your new home or when youíve sold your old home.
Donít Have The Time, or Canít Afford, to Declutter?
If you need to sell your house fast this spring, but donít have time to, or canít afford any of the preparation? The Team Edge will buy your house this winter.† At The Team Edge, weíre dedicated to providing you with the best possible home-selling experience in the fine state of Maryland. Call our 24/7 hotline today at 443-840-7100 or fill out our quick and easy online application to get started on selling your Baltimore property immediately. No matter how your property looks, The Team Edge is here with a fair price and fast service.
Call or contact us online to experience The Team Edge Difference today.
You can also follow The Team Edge on Facebook, Twitter, Google+, and LinkedIn today!
Tags: buy my home, cleaning up, removing clutter, sell my home fast, sell your home, spring cleaning