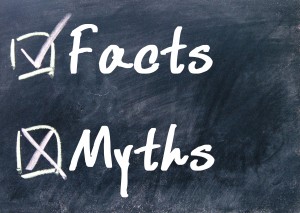 As the American economy and housing market ascends out of a long recession, increasing numbers of homeowners are looking to sell their property to take advantage of the changing market. However, with this increase in popularity there's been a natural uptick in the flow of misinformation and myths regarding selling your home in Maryland. The Team Edge, Maryland's premiere real estate seller, is here with the truth behind some common real estate selling myths.
You Have to Spend Money to Make Money
Myth: In order to sell your Maryland real estate you've got to sink a fair amount of cash into sprucing up the place, building additions, remodeling the kitchen, etc. Don't worry about the cost though, because these additions will more than pay for themselves with the great price you'll receive.
Truth: While an addition can make a piece of real estate more attractive to buyers and boost your asking price a bit, it probably won't recoup what it cost you to build. Most remodeling will only return 60-80% of what you paid for it, with the best just barely breaking even. If you're planning on selling your Maryland home, leave major renovations to the buyers and find a real estate agency that can guarantee a price on your home in its current condition.
Wait For Spring/ Summer
Myth: The best real estate sellers in Maryland wait until the spring/summer when sales and prices are high and their property looks the best. Selling during the winter or fall will net you price far less than your home is worth and will be much more difficult.
Truth: The idea of late spring/ summer as real estate selling time arose during a time when most of the housing market consisted of young families with children looking to move when school was not in session. However, the Maryland market has changed substantially since those days and now there's an equal share of retirees looking to downsize, young professionals searching for a first home, and childless homeowners, who are ready to buy and sell year round, making fall and winter just as competitive as the other seasons. If you want to sell your home now, there's nothing keeping you from it!
Call The Team Edge Today
At The Team Edge, we're dedicated to providing you with the best possible home-selling experience in Maryland or anywhere else. Call our 24/7 hotline today at 443-840-7100 or fill out our quick and easy online application to get started on selling your Maryland property immediately. No matter how your property looks, The Team Edge is here with a fair price and fast service. Remember to check back next week to learn about the truth behind some other popular real estate myths.
Call or contact us online to experience The Team Edge Difference today.
You can also follow The Team Edge on Facebook, Twitter, Google+, and LinkedIn today!
Tags: Maryland, myth, real estate, real estate experts, sell real estate in Maryland