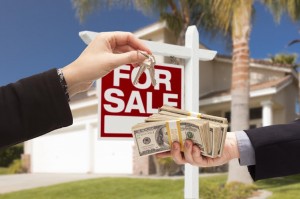 The Team Edge is dedicated to giving our customers a fast, fair, and convenient experience for our customers. To this end, we've made a form online where you can fill out your properties information and get a fast offer on your property online. You can find the form located here and follow our guide to filling it out, below, to get a fast offer on your property online.
Enter Some Contact Information
The first thing you need to do to get a fast offer on your property online here is to enter some contact information. The information you enter is required so The Team Edge can verify that you own the property and contact you with the offer after evaluating the form you submit. We promise the information you enter will be kept confidential. For your contact information we require are your first name, last name, contact phone number, and e-mail. It may be advisable to leave an alternate contact number if there are times during the day you can't be reached by your regular number.
Enter your Property Information
Next all you need to get a fast offer on your property online is to enter some basic property information. The only required fields are the street address of your property, including the city, state, and zip code where you are located. However, in the interest of getting your offer faster filling in additional information would be beneficial. With the information on the property type, number of bedrooms, bathrooms, basement condition, garage condition, and some financial information on the property we get you your offer faster and make sure it's absolutely fair for your property.
Receive Your Offer
One you filled out the form at our website, we can make sure you get a fast offer on your property online. Remember, the more detailed the information you give us the more quickly we can process the information and give you an offer in a timely manner. The response you receive will be friendly, fast, and fair, with no commitment. If you like the offer we can proceed as soon as you are ready to sell.
The Team Edge, We Make Creative Real Estate Solutions
If you're looking to get an fast offer on your property online, The Team Edge can help.  At The Team Edge, we're dedicated to providing you with the best possible home-selling experience in the fine state of Maryland. Call our 24/7 hotline today at 443-840-7100 or fill out our quick and easy online application to get started on selling your Baltimore property immediately. No matter how your property looks, The Team Edge is here with a fair price and fast service.
Call or contact us online to experience The Team Edge Difference today.
You can also follow The Team Edge on Facebook, Twitter, Google+, and LinkedIn today!