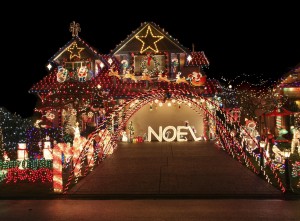 As one of Maryland's best real estate agencies, it pays to know about all of the neighborhoods in the area that we so business. In an effort to share that knowledge we're going to periodically offer neighborhood spotlights, short histories of various neighborhoods in Maryland and what makes them unique. Since the holidays are almost upon us, we thought we'd kick off this series with a focus on a Maryland neighborhood that's known for how its residents celebrate the holidays: Hampden, Baltimore!
History
Located in northwestern Baltimore, Hampden was first settled as a residential community by workers at the mills that had been erected along the Jones falls, and was later annexed into the city of Baltimore in 1889. Since that time the neighborhood has retained its working class roots and, during the 1990's, became a popular residence for artists. The past decade has seen property values in the area rise considerably as many trendy boutiques, restaurants, art galleries, and more have popped up.
Cultural Center
Hampden is perhaps best known for its annual Christmas decorating tradition called "The Miracle on 34th Street" where 34th street residents, and others, decorate their homes with thousands of ornaments and lights. This tradition, which dates back to around 1947, celebrates its 67th year this Christmas and has become a major tourist attraction, seeing hundreds of visitors from all over the world. The displays prominently feature many kinds of Christmas trees, trains, animated figures, Walt Disney cartoon characters, Hanukkah menorahs, artwork, and more.
Hampden is also well regarded for its annual Hon Festival which celebrates and lovingly lampoons the Bawlmerese lifestyle closely associated with the city in the 1960's. Attendees wear their hair in gigantic beehive hairdos and speak in their best Baltimore accent.
Hampden was given national exposure by beloved Baltimore filmmaker John Waters, who used the neighborhood as the setting and shooting location for his 1998 film about a budding photographer, Pecker.
The Team Edge Knows Maryland
At The Team Edge, we recognize the importance of knowing a neighborhood's history when it comes to trying to buying and selling real estate. Whether it's in well-known areas like Hampden, or lesser known neighborhoods in the state or across the nation, The Team Edge has the resources and knowledge to buy your home a quickly, and at a good price. We can make selling your home easy and fast with a guaranteed price that can be delivered in a lump sum payment.
Call 443.840.7100 or contact us online to experience The Team Edge Difference today.
You can also follow The Team Edge on Facebook, Twitter, Google+, and LinkedIn today!
Tags: Baltimore, hampden, Maryland Real Estate, neighborhood history